BOLLINGER B2 PICKUP Specs and Price ⚡ Electric Car
Share BOLLINGER B2 PICKUP in Social Media:
price (NEW) from:
125000,00
$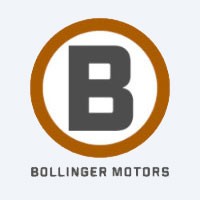 BOLLINGER B2 PICKUP description ⚡
Technical Specs, Price and Review on the new BOLLINGER B2 PICKUP.
BOLLINGER B2 PICKUP: The Unstoppable Electric Workhorse
Introducing the BOLLINGER B2 PICKUP, a powerful and innovative electric pickup truck manufactured in the USA by BOLLINGER MOTORS. As the big brother of the B1, the B2 shares the same DNA and engineering, with the addition of a long-bed mullet haircut – a six-foot bed capable of carrying cargo up to 16 feet through a patented full-vehicle-length passthrough with gates closed. This unstoppable electric pickup truck combines rugged capabilities with eco-friendly efficiency, redefining the concept of utility and practicality. Let's delve into the features and specifications that make the BOLLINGER B2 PICKUP a true trailblazer in the realm of electric pickup trucks.
Powerful Performance
| | |
| --- | --- |
| manufactured in | USA |
| new from ($) | 125000 |
| range (km) | 322 |
| max. speed | 161 |
| sales start | 2021 |
| 0 to100 km/h | 4.5 |
| power (h.p.) | 614 |
| battery (kWh) | 120 |
| car type | pickup |
| drive type | AWD |
The BOLLINGER B2 PICKUP boasts remarkable performance, powered by a robust 614 horsepower electric motor. This immense power allows the pickup to accelerate from 0 to 100 km/h in just 4.5 seconds, delivering an exhilarating and responsive driving experience. With all-wheel drive (AWD) capabilities, the B2 ensures maximum traction and control, conquering various terrains with ease.
Long-Range Efficiency
Equipped with a 120 kWh battery, the BOLLINGER B2 PICKUP offers an impressive range of 322 kilometers on a single charge. This long-range efficiency enables extended journeys and ensures you stay on the move without frequent recharges, making it a reliable workhorse for your daily tasks.
Versatile Cargo Capacity
Designed with versatility in mind, the B2's six-foot bed provides ample space for transporting cargo of various sizes. The patented full-vehicle-length passthrough with gates closed allows you to carry cargo up to 16 feet in length, offering unrivaled flexibility for your hauling needs.
Thoughtful Engineering
Every aspect of the BOLLINGER B2 PICKUP has been meticulously designed for utilitarian purpose and efficiency. From its exterior seams and surfaces to its interior touchpoints, every detail has been thought through to deliver a seamless and practical experience for drivers and passengers alike.
Innovation with Familiarity
The B2's design and engineering borrow heavily from the successful B1, with the addition of a pickup truck bed and a longer wheelbase of 20 inches. This blend of familiarity and innovation ensures that the B2 retains the acclaimed attributes of its sibling while offering enhanced cargo-carrying capabilities.
Conclusion
In conclusion, the BOLLINGER B2 PICKUP redefines electric pickup trucks with its unstoppable performance, long-range efficiency, and versatile cargo capacity. Whether you're navigating city streets or tackling rugged terrains, the B2 stands ready to conquer any challenge you throw its way. Embrace the ultimate fusion of power and utility with the BOLLINGER B2 PICKUP, where every aspect has been engineered to serve your utilitarian needs with unmatched precision and reliability.