EV Charging Stations
This category of the EV database features electric charging stations.
Here you can find the EV charging stations from different manufacturers from around the World. Electric charging stations specifications and current prices from manufacturers of EV chargers are presented, as well as video reviews for each popular charging device. You can ask a question about each electric charging station through the form on the page of selected product. We are trying to replenish the database of electric charging stations and their producers in a timely manner.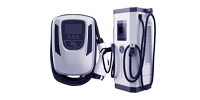 Dive into the universe of Electric Vehicle (EV) charging stations – an extensive digital database that houses a variety of these imperative devices from globally recognized manufacturers.
Comprehensive Database of EV Charging Stations
This distinctive category caters to your needs for EV charging solutions. This isn't just any catalog - it's a constantly evolving database rich with information about electric vehicle charging stations produced by numerous manufacturers spread across the globe.
Embrace Global Variety of EV Chargers
Take advantage of this platform and explore an international array of EV charging stations. This diverse collection comes from a plethora of manufacturers hailing from all corners of the globe, each bringing their own unique specifications and pricing structure to the table. This global representation gives you the opportunity to make an informed decision that suits your particular needs and preferences.
Detailed Specifications and Up-to-Date Pricing
Delve into comprehensive data, including precise specifications and the latest pricing from the original EV charger producers. This ensures that you are always in tune with the current market trends and can make the most of the potential deals out there.
Video Reviews of Popular Charging Stations
To ensure your buying decision is as informed as possible, our database also provides video reviews for each trending charging station. These reviews offer real-world insights into how these devices function, providing you with a clearer perspective before you commit to a purchase.
Interactive Platform for Queries
Every selected product page includes a query form for your convenience. This interactive feature allows you to ask any burning questions you might have about a particular electric charging station. This feature ensures you have all the necessary information to make a confident, informed decision.
Timely Updates on EV Charging Stations and Producers
We are committed to staying ahead of the curve and keeping our database fresh and relevant. Regular replenishment of the database with information about new electric charging stations and their producers is a priority. We ensure that you have access to the most up-to-date information, making your experience not only convenient but also efficient.
Explore, interact, and stay informed with our expansive, user-friendly database. Our priority is to facilitate your journey in the world of EV charging stations, ensuring that you are always just a click away from the latest and most relevant information. Your satisfaction is our driving force, and we are dedicated to providing you with the best information and resources available.