Electric Bicycles & Scooters
This category of the EV database features electric bicycles and electric scooters.
Here you can find the electric bicycles and electric scooters from different manufacturers from around the World. Electric bicycle specifications and current prices from manufacturers of electric bicycles are presented, as well as video reviews for each popular bicycle and electric scooter. You can ask a question about each electric vehicle through the form on the page of selected EV. We are trying to replenish the database of electric bicycles and electric transport producers in a timely manner.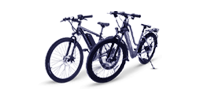 In the ever-evolving realm of Electric Vehicle (EV) technology, electric bikes and scooters stand as two of the most popular, accessible, and environmentally friendly categories. Within this unique space, we present an exhaustive guide and directory that focuses on these innovative and green transportation options from across the globe.
Navigating the World of Electric Bikes and Scooters
In this comprehensive guide, you'll gain access to a broad selection of electric bikes and scooters from various global manufacturers. We carefully detail and curate the specifications of each electric bike and scooter, ensuring that you can make informed decisions about the electric vehicles that suit your needs and preferences best.
Unfolding Electric Bike Specifications & Pricing
In addition to showcasing different models, we provide detailed specifications of each electric bike, including crucial information about battery life, range, speed, and more. This information is coupled with the latest pricing data directly from the manufacturers, helping you to understand the financial implications of choosing one electric bike over another.
Diving Deep into Electric Scooters
The world of electric scooters is just as diverse and intriguing as that of electric bikes. We present to you comprehensive video reviews, detailing the advantages and unique features of the most popular electric scooters available today.
Engaging with the EV Community
Beyond simply offering data and reviews, we extend the opportunity to engage with our community. Every electric vehicle page features an interactive form where you can ask questions and participate in discussions about your chosen EV model.
Timely Updates on Electric Transport Producers
Our commitment to our readers extends beyond curating and sharing information. We continually strive to keep our database updated with the latest offerings from electric bicycle and electric scooter manufacturers. Through this, we hope to provide you with the most accurate and up-to-date information about the evolving EV landscape.
In conclusion, our mission is to serve as a reliable platform for enthusiasts, newcomers, and experts alike in the electric bike and scooter world. We endeavour to provide you with an engaging, informative, and up-to-date database, helping you navigate the ever-changing landscape of EV technology. We hope this guide serves as your one-stop shop for all things related to electric bikes and scooters.