Electric Buses & Vans
This category of the EV database features electric buses and electric VANs.
Here you can find the electric buses and electric VANs from different manufacturers from around the World. Electric buses specifications and current prices from manufacturers of buses and VANs are presented, as well as video reviews for each popular electric bus or electric VAN. You can ask a question about each electric vehicle through the form on the page of selected EV. We are trying to replenish the database of electric buses and electric transport producers in a timely manner.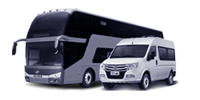 In the rapidly advancing realm of electric vehicles (EV), there's an exciting subset that captivates the interest of environmental enthusiasts and tech aficionados alike - the category of electric buses and vans. This sector introduces a range of innovative electric buses and vans sourced from myriad manufacturers scattered across the globe.
Diverse Range of Electric Buses and Vans
Our comprehensive EV database presents a captivating array of electric buses and vans from an assortment of international manufacturers. We strive to provide up-to-the-minute specifications and current pricing details from bus and van manufacturers, thus creating an indispensable resource for anyone interested in the world of electric transport.
Unveiling Electric Bus and Van Specifications
This database not only houses a diverse collection of electric buses and vans but also offers in-depth information regarding their specifications. We provide data on their performance, efficiency, battery capacity, and charging times, among others, to help users make informed decisions based on their specific needs and preferences.
Current Prices from Renowned Manufacturers
We understand the importance of financial considerations when it comes to investing in an electric vehicle. That's why our database includes up-to-date pricing information from various bus and van manufacturers worldwide. You can conveniently compare the cost of different models, ensuring you get the best value for your money.
Engaging Video Reviews of Popular Electric Buses and Vans
In addition to written content, our database features engaging video reviews of each popular electric bus or van. These reviews provide visual insights into the design, features, and performance of various electric vehicles, aiding prospective buyers in their decision-making process.
A Platform for Inquiries and Interactions
Through our user-friendly interface, you can effortlessly ask questions about each listed electric vehicle. Simply navigate to the page of the selected EV and submit your query via the provided form. Our team of experts will address your concerns promptly and accurately.
Keeping Pace with Emerging EV Producers
In the ever-evolving landscape of electric transportation, we understand the importance of staying updated. We are committed to timely replenishing our database with the latest offerings from both established and emerging electric bus and van producers.
In conclusion, our electric buses and vans category serves as a comprehensive, user-friendly platform that caters to all your EV needs. Stay tuned for the most current, informative, and engaging content in the realm of electric transportation.