Electric Trucks & Tractors
This category of the EV database features electric trucks and electric tractors.
Here you can find the electric trucks and electric tractors from different manufacturers from around the World. Electric trucks specifications and current prices from manufacturers of electric trucks and tractors are presented, as well as video reviews for each popular truck or electric tractor. You can ask a question about each electric vehicle through the form on the page of selected EV. We are trying to replenish the database of electric trucks and electric transport producers in a timely manner.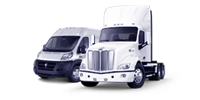 In the dynamic arena of electric vehicles (EV), a particular category of interest stands out: electric trucks and electric tractors. This article will delve into the fascinating universe of these robust and eco-friendly machines, guiding you through the latest models, their specifications, prices, and manufacturer details from across the globe.
Glimpsing the Global Landscape of Electric Trucks and Tractors
If you're interested in the evolving landscape of electric trucks and tractors, this is your one-stop destination. Our aim is to curate a diverse portfolio, showcasing electric trucks and tractors from a wide range of manufacturers scattered all around the world.
Electric Truck Specifications and Pricing Insights
From horsepower to battery capacity and range, we offer a detailed look at the specifications of different electric trucks. In addition, our guide will provide you with the most recent price points offered by leading manufacturers of electric trucks and tractors. Keeping you informed and updated is our priority.
On-Screen Reviews for a Closer Look
To give you a closer, more intimate look at each vehicle, we present an array of video reviews. These cover popular truck models and electric tractors, offering you a real-world insight into their performance, functionality, and overall appeal.
Interact and Inquire
Got a burning question about a specific electric vehicle? Our interactive platform allows you to inquire about each electric truck or tractor directly on its dedicated page. We're here to facilitate open dialogue and knowledge sharing in the world of EVs.
Updating Our Electric Vehicle Database
We strive to keep our electric vehicle database up-to-date with the latest additions in the electric truck and tractor market. Whether it's a fresh release from a globally renowned manufacturer or an innovative model from an emerging startup, we aim to include it all.
From the hard-hitting power of electric trucks to the versatile functionality of electric tractors, the world of electric transport is in constant flux. Stay ahead of the curve with our comprehensive guide, whether you're a potential buyer or simply an EV enthusiast. Embrace the future, today.