Andromeda Power Manufacturing Company
EV Charging Stations Producers Category in the EV database
---
Share the Andromeda Power Company page in Social media:
About Andromeda Power Company
⚡ EV Charging Stations Manufacturing Company.
At Andromeda Power, we are driven by the vision of making global smart mobility a practical opportunity for everyone. As a leading EV charging stations manufacturing company, we are dedicated to creating innovative solutions that enable optimal fast charging anytime, anywhere, and from any power source.
Driving Smart Mobility
Andromeda Power is at the forefront of the smart mobility revolution. We understand the critical role of fast charging in facilitating the widespread adoption of electric vehicles. By developing cutting-edge solutions, we aim to make fast charging accessible and convenient, empowering individuals to embrace electric mobility without compromise.
Innovative Fast Charging Solutions
We specialize in providing advanced fast charging solutions that optimize charging speed and efficiency. Our range of products is designed to cater to diverse charging needs, ensuring that electric vehicle owners can charge their vehicles rapidly, whether at home, in public spaces, or on the go. We leverage the latest technologies and engineering expertise to deliver reliable, safe, and high-performance charging solutions.
Charging Anytime, Anywhere
Andromeda Power understands that the success of electric mobility hinges on the availability of charging infrastructure. That's why we are committed to developing charging solutions that can be deployed anywhere, accommodating various power sources. Our products are designed to be versatile and adaptable, enabling charging from a range of power grids, renewable energy sources, and smart grid systems. With Andromeda Power, electric vehicle owners can charge their vehicles conveniently, no matter where they are.
Product Portfolio
Andromeda Power offers a comprehensive range of products designed to meet the diverse charging needs of electric vehicle owners. Our product lineup includes:
Fast Charging Stations: Our fast charging stations deliver rapid charging capabilities, allowing electric vehicles to recharge quickly and efficiently. These stations are designed to provide high-power charging in various settings, such as residential areas, commercial spaces, and public charging networks.

Home Charging Solutions: We offer home charging solutions that enable electric vehicle owners to conveniently charge their vehicles in the comfort of their own homes. Our home charging solutions are user-friendly, reliable, and designed to optimize charging speed.

Public Charging Infrastructure: Andromeda Power provides public charging infrastructure that caters to the needs of electric vehicle users in public spaces, including parking lots, shopping centers, and highways. Our charging stations are designed to be accessible, reliable, and capable of delivering fast charging to support the growing electric vehicle market.
Empowering a Sustainable Future
Andromeda Power is committed to driving a sustainable future by promoting electric mobility. By making fast charging solutions practical and widely available, we contribute to reducing carbon emissions and reliance on fossil fuels. Our solutions not only enable individuals to embrace electric vehicles but also support the transition to renewable energy sources, creating a more sustainable and greener world for future generations.
Conclusion
Andromeda Power is a leading EV charging stations manufacturing company, dedicated to empowering global smart mobility through optimal fast charging solutions. With our innovative products and commitment to accessibility, we strive to make fast charging anytime, anywhere, and from any power source a reality. By embracing sustainable practices and driving the adoption of electric mobility, we contribute to a greener future and a more connected world. Andromeda Power remains at the forefront of smart mobility, continuously pushing the boundaries of fast charging technology to empower individuals and communities around the globe.
View all Products Produced by "Andromeda Power"
(where we publish the EV description and EV specs for each model)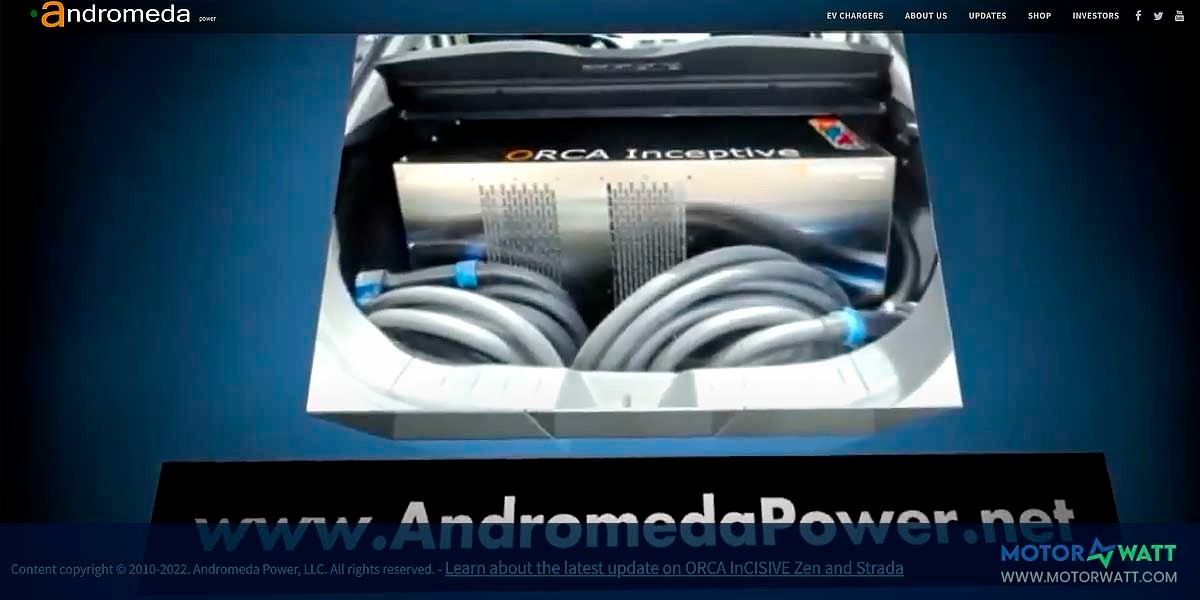 ---
---
New Manufacturing Companies in the MOTORWATT EV Database:
More EV Producers in the Database: