ARI Motors Manufacturing Company
Electric Trucks Producers Category in the EV database
---
Share the ARI Motors Company page in Social media: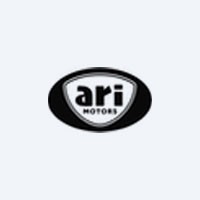 About ARI Motors Company
⚡ Electric Trucks Manufacturing Company.
ARI Motors Company: Revolutionizing Electric Trucks for Last-Mile Delivery
ARI Motors GmbH is a leading electric trucks manufacturing company, offering the smallest electric transport vehicle with European road approval. The name ARI represents the power, flexibility, and versatility of our vehicles, drawing inspiration from the Japanese term "ant." Our primary goal is to bring affordable and efficient electric transport vehicles to European streets, specifically tailored for last-mile delivery. Our vehicles cater to small entrepreneurs, medium-sized companies, and even large corporations with their diverse fleet requirements.
Customized Solutions for Last-Mile Delivery
At ARI Motors, we understand the unique demands of last-mile delivery. Our vehicles are specifically designed to address these requirements, providing tailored solutions that are analogous to conventional transport vehicles. From pickups to box bodies, tarpaulin structures to cooling and heating boxes, and even tippers or alcoves, our vehicle lineup offers a wide range of options. Every vehicle body is meticulously customized to meet the needs of our customers, ensuring optimal functionality and efficiency.
Quality Manufacturing in Europe
All our vehicle bodies, designed to meet the European market standards and the quality expectations of our customers, are produced in our state-of-the-art manufactory near Prague. Here, we combine precision engineering and advanced manufacturing processes to deliver high-quality electric trucks. Our commitment to excellence extends throughout the entire manufacturing process, ensuring that every vehicle meets our stringent quality standards.
Sustainable and Efficient Last-Mile Transportation
ARI Motors is dedicated to promoting sustainable and efficient last-mile transportation solutions. By offering electric trucks, we reduce emissions and contribute to a greener future. Our vehicles are not only environmentally friendly but also cost-effective, providing economical and efficient solutions for businesses of all sizes. With ARI Motors electric trucks, companies can enhance their last-mile delivery operations while reducing their carbon footprint.
Explore ARI Motors' Electric Truck Range
Visit ARI Motors' website to explore the range of electric trucks produced by the company. From compact and versatile models to specialized vehicles for specific applications, ARI Motors offers a diverse selection of electric trucks designed for last-mile delivery. Discover the power, flexibility, and efficiency that ARI Motors brings to the table and embrace a sustainable future of transportation.
ARI Motors: Driving Last-Mile Delivery Innovation
ARI Motors stands at the forefront of last-mile delivery innovation, revolutionizing the way goods are transported. With our compact and efficient electric trucks, we provide customized solutions for businesses seeking cost-effective and eco-friendly options. Join ARI Motors in their mission to transform last-mile transportation and pave the way for a greener and more efficient future.
In conclusion, ARI Motors is a leading electric trucks manufacturing company, specializing in customized solutions for last-mile delivery. With their commitment to quality, sustainability, and versatility, ARI Motors offers a range of electric trucks designed to meet the specific requirements of businesses. Explore ARI Motors' lineup of electric trucks and embrace a greener and more efficient approach to last-mile transportation.
View all Products Produced by "ARI Motors"
(where we publish the EV description and EV specs for each model)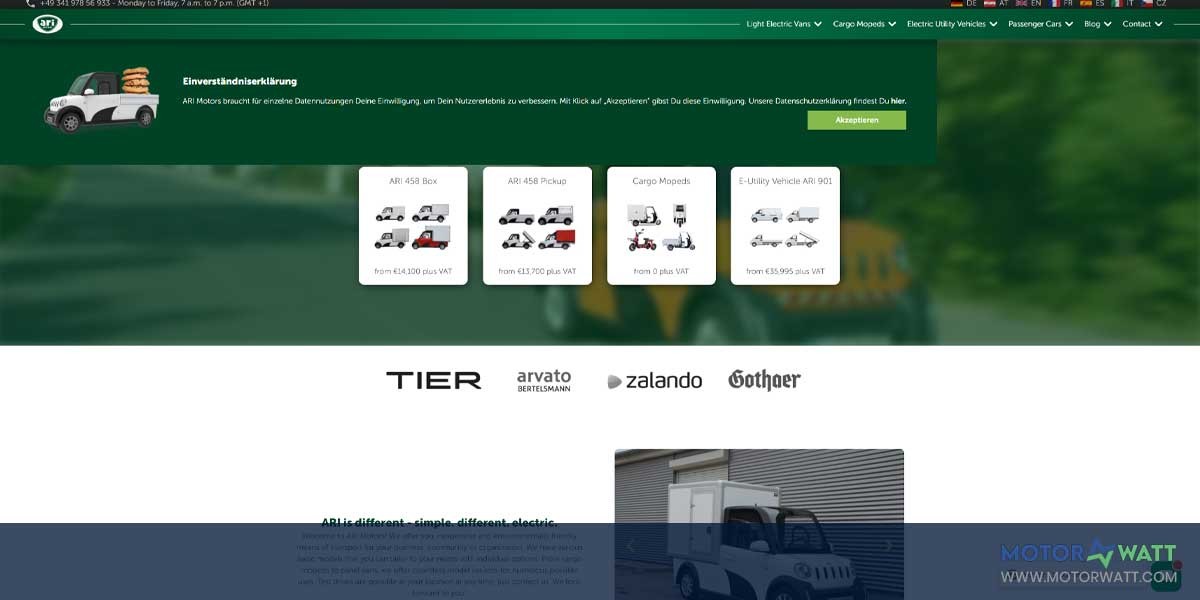 ---
---
New Manufacturing Companies in the MOTORWATT EV Database:
More EV Producers in the Database: