EV Electra Manufacturing Company
Electric Cars Producers Category in the EV database
---
Share the EV Electra Company page in Social media:
About EV Electra Company
⚡ Electric Cars Manufacturing Company.
EV Electra Company: Driving Electric Car Manufacturing in Lebanon and Beyond
EV Electra is a pioneering electric cars manufacturing company that embarked on its research and development journey in Lebanon, marking a significant milestone for the Arab World. Initially established as a division of "Jihad Mohammad Investments," EV Electra soon emerged as an independent entity with its headquarters in Lebanon. Over time, the company expanded its presence with offices in Canada, Italy, Germany, and the Netherlands, reflecting its global vision.
A Commitment to a Cleaner Environment
From its inception, EV Electra has been driven by a clear purpose: to contribute to a cleaner environment. The company is deeply committed to manufacturing and assembling battery electric vehicles with zero emissions, aligning with the global shift towards sustainable transportation solutions. By focusing on creating a cleaner, greener future, EV Electra plays a crucial role in mitigating environmental impact.
Establishing a Manufacturing and R&D Hub in Lebanon
Driven by their dedication to the community and sustainable innovation, EV Electra strategically established a fundamental manufacturing and research and development (R&D) hub in Lebanon. This geographic commitment serves as a testament to EV Electra's mission and showcases their support for local expertise and economic growth. By nurturing the manufacturing and R&D capabilities in Lebanon, EV Electra contributes to the country's technological advancements and positions itself as a key player in the region.
A Global Vision for Electric Mobility
While rooted in Lebanon, EV Electra maintains a global presence and aims to make a significant impact on the electric mobility landscape worldwide. By expanding its operations across different countries, EV Electra embraces a global vision for the adoption of electric vehicles. Their commitment to sustainable transportation transcends borders, advocating for a greener future on a global scale.
Explore EV Electra's Electric Car Lineup
Visit EV Electra's website to explore the range of electric cars produced by the company. From cutting-edge models to innovative technologies, EV Electra offers a diverse selection of electric vehicles that combine performance, sustainability, and advanced features. Discover the driving experience that EV Electra brings to the table and be a part of the transition to clean and efficient transportation.
Driving Towards a Sustainable Future with EV Electra
EV Electra stands at the forefront of electric car manufacturing, driving the transition to sustainable mobility in Lebanon and beyond. By pioneering zero-emission vehicles and establishing a strong manufacturing and R&D presence, EV Electra showcases their commitment to a cleaner and greener future. Join EV Electra in their mission to create a sustainable transportation ecosystem and embrace electric mobility.
In conclusion, EV Electra is an innovative electric cars manufacturing company that originated in Lebanon and has expanded its operations globally. With a steadfast commitment to a cleaner environment, EV Electra manufactures zero-emission electric vehicles and plays a vital role in driving sustainable transportation solutions. Explore EV Electra's lineup of electric cars and contribute to a greener future of mobility.
View all Products Produced by "EV Electra"
(where we publish the EV description and EV specs for each model)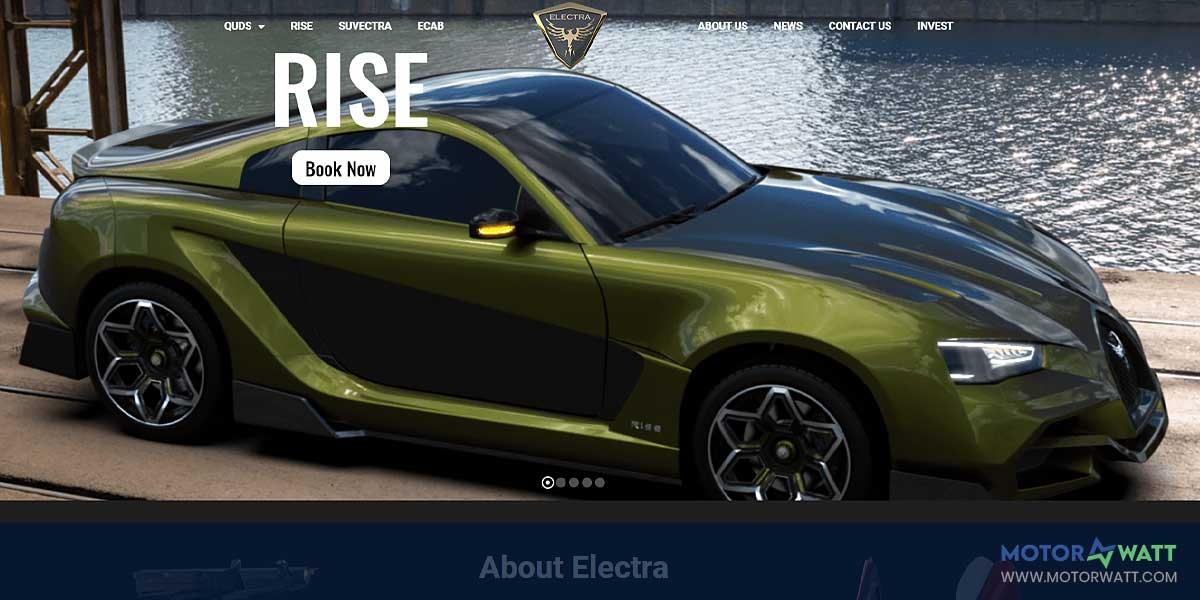 ---
---
New Manufacturing Companies in the MOTORWATT EV Database:
More EV Producers in the Database: