Lightning eMotors Cargo Manufacturing Company
Electric Trucks Producers Category in the EV database
---
Share the Lightning eMotors Cargo Company page in Social media: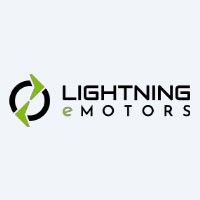 About Lightning eMotors Cargo Company
⚡ Electric Trucks Manufacturing Company.
Lightning eMotors Cargo Company: Pioneering Electric Trucks for Sustainable Fleet Solutions
Lightning eMotors Cargo is a leading electric trucks manufacturing company that has been providing specialized and sustainable fleet solutions since 2009. With a strong focus on zero-emission vehicles (ZEV), Lightning eMotors Cargo has been deploying complete ZEV solutions for commercial fleets since 2018. Their product lineup includes an extensive range of vehicles, such as Class 3 cargo and passenger vans, ambulances, Class 4 and 5 cargo vans and shuttle buses, Class 4 Type A school buses, Class 6 work trucks, Class 7 city buses, and Class A motor coaches.
Customized Zero-Emission Vehicle Solutions
The Lightning eMotors Cargo team is dedicated to designing, engineering, customizing, and manufacturing zero-emission vehicles that cater to the diverse needs of fleet customers. With a comprehensive suite of control software, telematics, analytics, and charging solutions, Lightning eMotors Cargo simplifies the buying and ownership experience while maximizing uptime and energy efficiency. By working closely with forward-thinking fleets, Lightning eMotors Cargo ensures that each electric powertrain is tailored to the specific chassis and drive cycle, providing the ideal solution for each fleet's requirements.
Enhancing Fleet Performance and Sustainability
Lightning eMotors Cargo's products offer numerous benefits to fleets, including improved operating costs, enhanced safety, and the adoption of the cleanest and most advanced technology available. By transitioning to electric trucks, fleets can significantly reduce their carbon footprint and contribute to a more sustainable future. Lightning eMotors Cargo's electric trucks not only offer environmental advantages but also deliver reliable performance, enabling fleets to operate efficiently and effectively.
Comprehensive Solutions and Nationwide Presence
Headquartered in Loveland, Colorado, Lightning eMotors Cargo has a nationwide presence with offices in California, Indiana, and New Jersey. Their team provides a full suite of solutions, including design, engineering, customization, manufacturing, software, telematics, analytics, and charging infrastructure. This comprehensive approach ensures that fleets receive end-to-end support for their transition to electric trucks, making the process seamless and efficient.
Explore Lightning eMotors Cargo's Product Lineup
Visit Lightning eMotors Cargo's website to discover the extensive range of electric trucks produced by the company. From versatile cargo and passenger vans to specialized vehicles like ambulances, school buses, and work trucks, Lightning eMotors Cargo offers a diverse selection of zero-emission solutions. Experience the power, efficiency, and sustainability of Lightning eMotors Cargo's electric trucks and join the movement towards cleaner and more efficient fleet operations.
Driving Sustainable Fleet Solutions with Lightning eMotors Cargo
Lightning eMotors Cargo is at the forefront of revolutionizing fleet operations with their innovative electric trucks. With their commitment to sustainability, performance, and customer satisfaction, Lightning eMotors Cargo empowers fleets to embrace electric mobility and make a positive impact on the environment. Join Lightning eMotors Cargo on the journey towards sustainable fleet solutions and experience the benefits of zero-emission vehicles.
In conclusion, Lightning eMotors Cargo stands as a leader in the electric trucks manufacturing industry, offering specialized and sustainable solutions for fleets. With their extensive product lineup, comprehensive solutions, and nationwide presence, Lightning eMotors Cargo provides fleets with the tools and support they need to transition to zero-emission vehicles. Embrace sustainable fleet solutions with Lightning eMotors Cargo and drive towards a greener and more efficient future.
View all Products Produced by "Lightning eMotors Cargo"
(where we publish the EV description and EV specs for each model)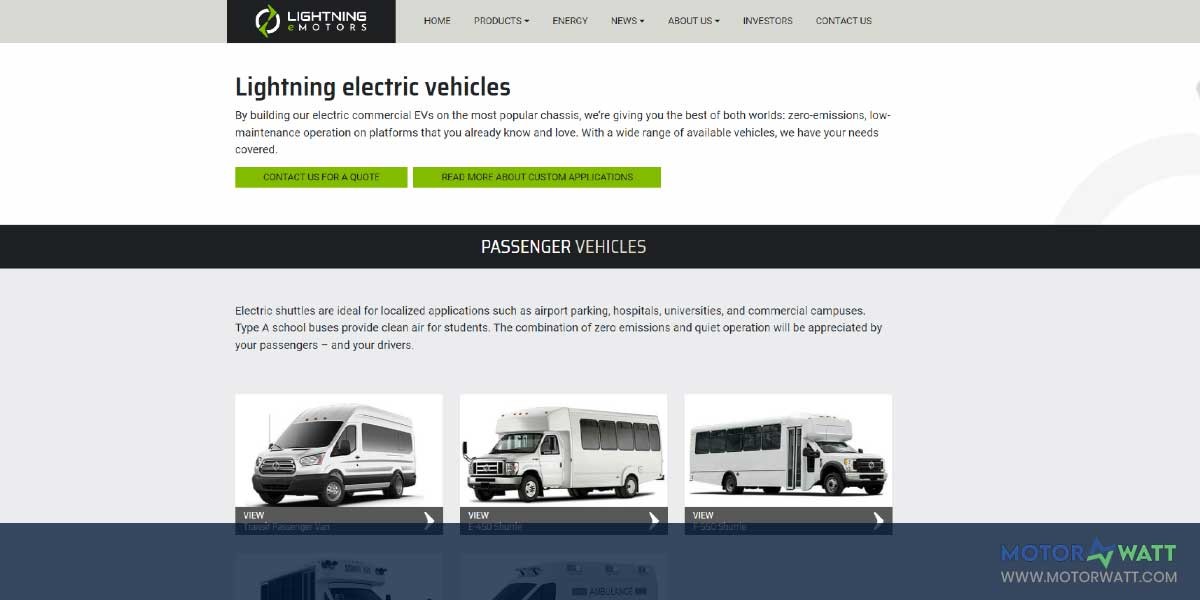 ---
---
New Manufacturing Companies in the MOTORWATT EV Database:
More EV Producers in the Database: