MATTER Price and Specs
Added to the EV Database on 27 February 2023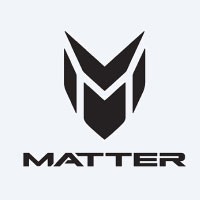 Technical Specifications, Price and Review on the new MATTER.
| | |
| --- | --- |
| manufactured in | India |
| new from ($) | 2115 |
| motocycle type | City Bike |
| sales start | 2023 |
| range (km) | 150 |
| max. speed | 125 |
| transmission | chain |
| battery (kWh) | 5 |
| 0 to100 km/h | unknown |
| power (h.p.) | 14 |
MATTER: Experience the Future of City Biking
The MATTER 5 kWh electric motorcycle redefines city biking with its cutting-edge features and impressive performance. Manufactured in India and equipped with state-of-the-art technology, this city bike promises an electrifying and efficient ride for urban commuters and enthusiasts alike.
MATTER Specs and Performance
The heart of the MATTER electric motorcycle lies in its unique 10.5 kW liquid-cooled engine, paired with a four-speed manual transmission.
This powerful combination ensures a thrilling and dynamic riding experience on city streets. The bike is powered by a 5 kWh liquid-cooled battery pack, providing a commendable power reserve of up to 150 kilometers, making it ideal for daily commuting and city exploration.
Convenient Charging and Connectivity
Although the precise charging time has not been disclosed, the MATTER 5 kWh electric motorcycle comes with a 5 A charger that can be effortlessly connected to any standard three-pin household outlet. This convenience allows riders to charge their bikes conveniently and efficiently.
Innovative LCD Console and Mobile Application Integration
The MATTER electric motorcycle is equipped with a sophisticated seven-inch LCD console featuring a touch screen interface. This console offers various connectivity functions, including navigation, answering calls, and music control, providing riders with a seamless and connected experience.
Additionally, a dedicated mobile application complements the MATTER motorcycle, offering riders access to essential ride statistics and detailed bike information, including location and charging status. This integration ensures that riders stay informed and connected throughout their journeys.
Conclusion
In conclusion, the MATTER 5 kWh electric motorcycle is a game-changer in the world of city biking. With its powerful engine, efficient battery, and advanced connectivity features, it stands as a symbol of the future of urban commuting. Whether you're zipping through city traffic or exploring the streets, the MATTER electric motorcycle is designed to offer an unparalleled riding experience. Embrace the convenience, performance, and innovation of the MATTER 5 kWh electric motorcycle, and let it redefine the way you navigate and experience the city. With Matter's commitment to excellence and cutting-edge technology, the MATTER electric motorcycle is poised to lead the charge into a new era of electrified city biking.
---