Evum Manufacturing Company
Electric Trucks Producers Category in the EV database
---
Share the Evum Company page in Social media: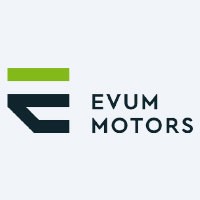 About Evum Company
⚡ Electric Trucks Manufacturing Company.
Evum: Revolutionizing Electric Trucks with the aCar
Evum is an innovative electric trucks manufacturing company known for its groundbreaking commercial vehicle, the aCar. With its all-wheel and electric drive, the aCar combines economic efficiency and ecological sustainability. Designed with a modular concept, it serves as an invaluable asset in various sectors, including agriculture, commerce, industry, municipal use, and leisure applications. Originally developed as a versatile vehicle for developing and emerging countries, the robust and maneuverable aCar also proves to be the most cost-effective and environmentally friendly solution for a wide range of tasks in developed nations.
Versatility for Various Applications
The Evum aCar is engineered to tackle diverse applications with ease. Its all-wheel drive system ensures excellent off-road capabilities, allowing it to navigate challenging terrains. From agriculture and commercial operations to industrial tasks and municipal services, the aCar proves to be an indispensable workhorse. Furthermore, its adaptability makes it an ideal choice for demanding leisure activities, catering to outdoor enthusiasts and adventurers.
Economic Efficiency and Environmental Friendliness
Evum's aCar stands out not only for its versatility but also for its economic and ecological advantages. With its electric drive, the aCar offers efficient and cost-effective operations. It eliminates the need for fossil fuels, reducing both fuel expenses and carbon emissions. The aCar's sustainable design contributes to a greener future by minimizing environmental impact without compromising performance or reliability.
Designed for Real-World Challenges
Evum understands the real-world challenges faced by commercial vehicle users. That's why the aCar is built to be robust, reliable, and maneuverable. Its sturdy construction ensures durability in demanding working conditions, while its agile nature enables easy maneuvering in tight spaces. Whether it's navigating uneven terrains or maneuvering through urban environments, the aCar is engineered to excel.
Discover the Evum Difference
Explore the range of products produced by Evum and experience the innovation and reliability of the aCar. With its combination of economic efficiency, environmental friendliness, and versatility, the aCar is a game-changer in the electric trucks industry. Join the revolution and embrace the future of sustainable commercial vehicles with Evum.
Evum: Leading the Charge in Electric Trucks
Evum is at the forefront of electric trucks manufacturing, spearheading the transition to sustainable commercial vehicles. With their flagship product, the aCar, they offer a versatile and eco-friendly solution that meets the demands of various industries. Choose Evum for innovative electric trucks that combine performance, reliability, and a commitment to a greener future.
In conclusion, Evum is a leading electric trucks manufacturing company known for its innovative aCar. With its all-wheel and electric drive, the aCar offers versatility, economic efficiency, and environmental friendliness. Designed to excel in various applications, it serves as a reliable and robust solution for agriculture, commerce, industry, municipal use, and leisure activities. Experience the Evum difference and embrace sustainable commercial vehicles for a greener future.
View all Products Produced by "Evum"
(where we publish the EV description and EV specs for each model)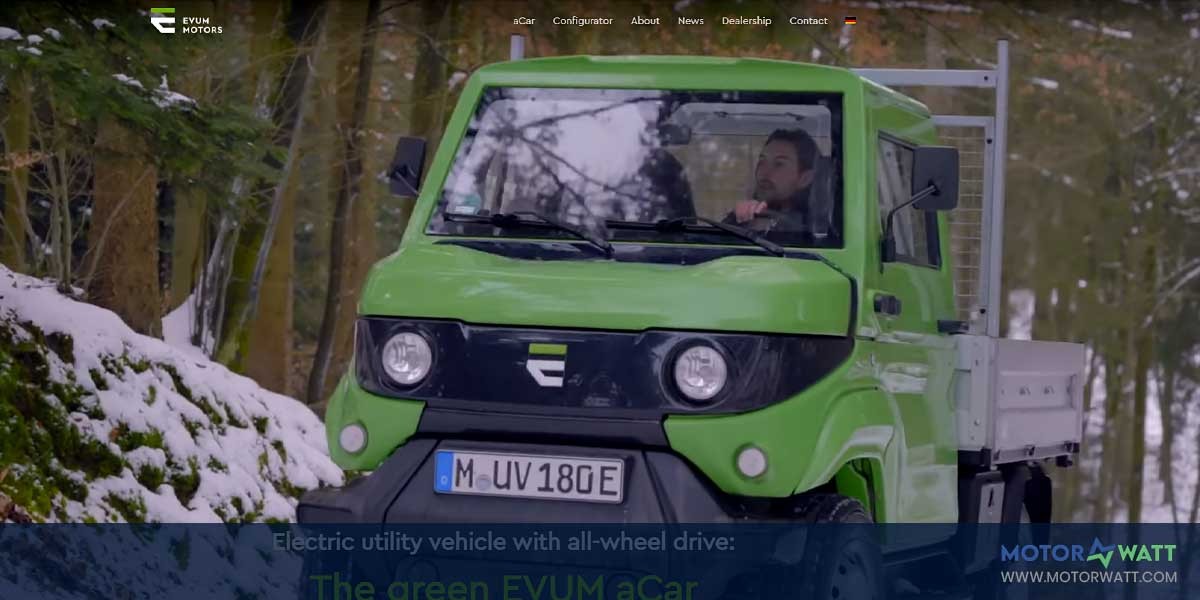 ---
---
New Manufacturing Companies in the MOTORWATT EV Database:
More EV Producers in the Database: