BOLLINGER B1 SUV Specs and Price ⚡ Electric Car
Share BOLLINGER B1 SUV in Social Media:
price (NEW) from:
125000,00
$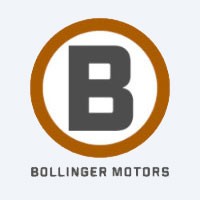 BOLLINGER B1 SUV description ⚡
Technical Specs, Price and Review on the new BOLLINGER B1 SUV.
BOLLINGER B1 SUV: The Ultimate All-Electric Off-Road Pioneer
Introducing the BOLLINGER B1 SUV, a groundbreaking all-electric vehicle manufactured in the USA by BOLLINGER MOTORS. This SUV has been meticulously developed from the ground up, resulting in a new platform of electric trucks that redefine off-road performance and utility. With its unparalleled combination of off-road capabilities, cargo capacity, and refined features, the BOLLINGER B1 SUV stands as a pioneer in the world of electric vehicles. Let's delve into the features and specifications that make the B1 SUV an exceptional all-electric off-road marvel.
Powerful Performance and Unmatched Torque
| | |
| --- | --- |
| manufactured in | USA |
| new from ($) | 125000 |
| range (km) | 322 |
| max. speed | 161 |
| sales start | 2021 |
| 0 to100 km/h | 4.5 |
| power (h.p.) | 614 |
| battery (kWh) | 120 |
| car type | SUV / 5 doors |
| drive type | AWD |
The BOLLINGER B1 SUV is equipped with a remarkable twin-engine all-wheel drive transmission, delivering best-in-class power and torque. Its impressive 614 horsepower ensures a thrilling and dynamic driving experience, allowing the SUV to accelerate from 0 to 100 km/h in just 4.5 seconds. With 50/50 weight distribution, the B1 SUV achieves unsurpassed traction, providing confidence and control on any terrain.
Off-Road Dominance and Adjustable Ground Clearance
Designed for rugged adventures, the BOLLINGER B1 SUV boasts best-in-class ground clearance, adjustable from 10 to 20 inches. This versatility allows you to conquer challenging landscapes with ease, ensuring that no obstacle stands in your way. Experience the thrill of off-road exploration like never before with the B1 SUV's exceptional capabilities.
Cargo and Utility Excellence
The BOLLINGER B1 SUV redefines utility with its exceptional cargo capacity and practical features. With its five doors and spacious interior, this SUV offers ample room for passengers and cargo alike. Whether you're embarking on a camping trip or transporting equipment, the B1 SUV stands ready to accommodate your needs.
The Fusion of Classic and Modern
BOLLINGER MOTORS has ingeniously combined the best elements of classic and modern trucks to create the B1 SUV. Embrace the rugged and robust attributes of a classic truck, blended seamlessly with refined and contemporary features. The result is an SUV that exudes both timeless appeal and cutting-edge innovation.
Sales Start and Off-Road Prowess
The BOLLINGER B1 SUV made its debut in 2021, marking the beginning of a new era in all-electric off-road vehicles. As a pioneer in its class, the B1 SUV sets new standards for off-road prowess and adventure.
Conclusion
In conclusion, the BOLLINGER B1 SUV is an all-electric marvel that exemplifies off-road dominance, cargo capacity, and utilitarian excellence. With its impressive performance, adjustable ground clearance, and fusion of classic and modern features, the B1 SUV redefines the possibilities of electric vehicles. Experience the thrill of off-road exploration with the BOLLINGER B1 SUV, where power, utility, and innovation unite to create an unforgettable driving experience.