Hanteng X5 EV Specs and Price ⚡ Electric Car
Share Hanteng X5 EV in Social Media:
price (NEW) from:
27570,00
$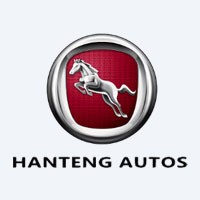 Hanteng X5 EV description ⚡
Technical Specs, Price and Review on the new Hanteng X5 EV.
Hanteng X5 EV: Redefining Electric SUVs
Unleashing Power and Efficiency
Introduction: The Future of Sustainable Mobility
Embrace the future of sustainable mobility with the Hanteng X5 EV, a remarkable electric SUV that blends power, efficiency, and cutting-edge technology. Manufactured in China by HANTENG Auto, this all-electric SUV has been making waves in the automotive world since its debut in 2019. Let's delve into the world of the Hanteng X5 EV and discover its remarkable specifications and features.
Hanteng X5 EV Specs at a Glance
| | |
| --- | --- |
| manufactured in | China |
| new from ($) | 27570 |
| range (km) | 252 |
| max. speed | 140 |
| sales start | 2019 |
| 0 to100 km/h | 11.9 |
| power (h.p.) | 129 |
| battery (kWh) | 42.7 |
| car type | SUV / 5 doors |
| drive type | FWD |
The Hanteng X5 EV boasts a 42.7 kWh battery, powering a robust permanent-magnet motor positioned on the front axle. This powerful combination results in an impressive output of 129 horsepower (96 kW), allowing the electric SUV to accelerate swiftly and reach a maximum speed of 140 km/h (87 mph). With a range of 252 kilometers, the Hanteng X5 EV offers a smooth and efficient driving experience, perfect for daily commuting and adventurous journeys alike. The front-wheel-drive (FWD) configuration ensures stability and agility on the road, further enhancing its appeal.
Efficient Charging Options: Fueling the Future
Charging the Hanteng X5 EV has been designed to be convenient and efficient. With a conventional NEMA 5-15 outlet, the charging time from 0 to 100% takes approximately 26 hours and 22 minutes, at a charging speed of approximately 6 mph. Opting for a NEMA 14-50 outlet reduces the charging time to around 6 hours and 47 minutes, at a charging speed of approximately 23 mph. For a rapid charging option, utilizing a Tesla Supercharger or any other DC fast charging station can provide up to 60 kW of power, reducing the charging time significantly. At best, charging the Hanteng X5 EV from 0 to 100% takes around 106.75 minutes, ensuring you spend more time on the road and less time waiting for a recharge.
Driving Dynamics: Smooth and Responsive
The Hanteng X5 EV delivers a smooth and responsive driving experience, with its electric motor providing instantaneous acceleration. The agile handling and responsive steering ensure a confident and enjoyable drive, making it an ideal companion for urban and highway travels alike. Whether navigating busy city streets or embarking on a weekend getaway, the Hanteng X5 EV impresses with its versatile and dynamic performance.
Interior Comfort and Connectivity: Elevating the Experience
Step inside the Hanteng X5 EV's cabin, and you'll be greeted with a spacious and well-crafted interior. The modern design and premium materials exude elegance, creating a luxurious ambiance for all occupants. The intelligent onboard system offers seamless connectivity, featuring an infotainment complex with user-friendly controls and an array of digital displays for vital vehicle information. The Hanteng X5 EV's interior sets a new standard for comfort and technology in the electric SUV segment.
Conclusion: Hanteng X5 EV—A Glimpse into the Electric Future
As the automotive industry embraces a greener future, the Hanteng X5 EV stands at the forefront, redefining electric SUVs with its exceptional performance, efficiency, and advanced technology. From its eco-friendly powertrain to its well-crafted interior, the Hanteng X5 EV promises an unmatched driving experience that seamlessly combines sustainability and innovation.