Sono Motors Sion Specs and Price ⚡ Electric Car
Share Sono Motors Sion in Social Media:
price (NEW) from:
25000,00
$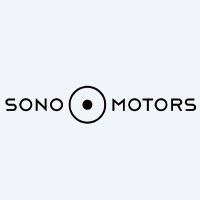 Sono Motors Sion description ⚡
Technical Specs, Price and Review on the new Sono Motors Sion.
Sono Motors Sion: The Innovative Solar-Powered Electric SUV
The Sono Motors Sion is an innovative electric SUV proudly manufactured in Germany by Sono Motors. This spacious and eco-friendly vehicle stands out for its unique solar charging capability, which sets it apart from conventional electric cars. In this article, we will delve into the captivating description and specifications of the Sono Motors Sion, revealing its impressive range, solar charging feature, and bidirectional charging capabilities.
Sono Motors Sion Specs:

Solar Charging for Extended Range
The Sono Motors Sion takes sustainability to the next level with its revolutionary solar charging system. 
| | |
| --- | --- |
| manufactured in | Germany |
| new from ($) | 25000 |
| range (km) | 305 |
| max. speed | 140 |
| 0 to100 km/h | 9.0 |
| power (h.p.) | 160 |
| battery (kWh) | 54 |
| car type | SUV / 5 doors |
| drive type | FWD |
The vehicle is equipped with 456 half cells that are seamlessly integrated into its body. Through the power of the sun, this solar technology can add an average of 112 kilometers (up to 245 kilometers) of driving range per week to the car's battery. This remarkable feature ensures full self-sufficiency on short distances and significantly enhances the vehicle's overall efficiency.
Impressive Range and Fast Charging
With a fully charged battery, the Sono Motors Sion boasts an impressive driving range of up to 305 kilometers. For fast charging convenience, the vehicle can be charged to 80% capacity in approximately 35 minutes at a fast charging station. Additionally, the Sion is compatible with public charging stations across Europe and can be recharged via a regular home power socket or even from another Sion!
Bidirectional Charging for Versatility
The Sion's on-board bidirectional charger sets it apart as a versatile electric vehicle. This feature allows the Sion to share its power and recharge other electric vehicles. This bidirectional capability promotes a community-oriented and collaborative approach to electric vehicle charging, making the Sion a leader in innovative charging solutions.
Conclusion
In conclusion, the Sono Motors Sion represents a groundbreaking step in the realm of electric SUVs with its innovative solar charging technology and bidirectional charging capabilities. Its spacious design, impressive range, and fast charging options make it a compelling choice for eco-conscious drivers seeking a sustainable and reliable electric vehicle.
As a testament to Sono Motors' commitment to sustainability and technological advancements, the Sion stands at the forefront of the electric vehicle market, leading the way towards a greener and more sustainable future.