Damon Hypersport Specs and Price ⚡ Electric Motorcycle
Share Damon Hypersport in Social Media:
price (NEW) from:
40000,00
$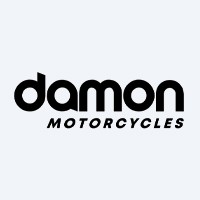 Damon Hypersport description ⚡
Technical Specs, Price and Review on the new Damon Hypersport.
Damon Hypersport: The Cutting-Edge Electric Superbike
The Damon Hypersport is a high-performance electric superbike that pushes the boundaries of electric motorcycle technology. Designed and manufactured in Canada, this bike boasts remarkable specifications, advanced safety features, and innovative rider customization options.
Damon Hypersport Specifications
Impressive Power: The Damon Hypersport is equipped with a powerful electric motor that generates 200 horsepower (equivalent to 150 kW). This immense power ensures exhilarating acceleration and thrilling riding experiences.
| | |
| --- | --- |
| manufactured in | Canada |
| new from ($) | 40000 |
| motocycle type | Superbike |
| sales start | 2021 |
| range (km) | 322 |
| max. speed | 322 |
| transmission | chain |
| battery (kWh) | 20 |
| 0 to100 km/h | 3 |
| power (h.p.) | 200 |
Speed and Range: With a top speed of 322 km/h (approximately 200 mph), the Hypersport is built for adrenaline-fueled high-speed rides. Its capacious 20 kWh water-cooled battery enables an impressive range of 322 km on the highway or an even more remarkable 482 km in the city with frequent use of the regenerative braking system.

Intelligent Safety System: The CoPilot AI driver assistance system is a standout feature of the Hypersport. Utilizing radars, cameras, and sensors, it provides a 360-degree view of the surroundings. The system warns the rider of potential dangers by displaying light signals on the periphery of the windshield and delivering vibrations on the steering wheel. This innovative safety system is designed to enhance rider awareness without distracting from the road.

Rear Camera Display: The motorcycle is equipped with a 1080p rear camera that allows the rider to see what's happening behind them. The camera's feed is displayed on a handlebar-mounted screen, providing improved situational awareness.

Dynamic Transformation: The Hypersport addresses the ergonomic challenges faced by riders with its dynamic transformation feature. It allows riders to adjust the height of the windshield, handlebars, seat, and footrests on the go. The bike can store multiple rider preferences, making it easy to switch between different configurations with a simple button press.
Manufacturer: Damon Motorcycles
Damon Motorcycles, based in Canada, is the visionary manufacturer behind the Hypersport. The company's commitment to innovation and cutting-edge technology is evident in the design and engineering of this groundbreaking electric superbike.
In conclusion, the Damon Hypersport is a remarkable electric superbike that offers impressive power, speed, and range. Its advanced safety features and dynamic transformation capabilities make it a standout choice for riders seeking a thrilling and customizable riding experience. With Damon Motorcycles leading the way, the Hypersport represents the pinnacle of electric motorcycle technology.