Yutong Light Truck T series Specs and Price ⚡ Electric Truck
Share Yutong Light Truck T series in Social Media:
price (NEW) from:
50000,00
$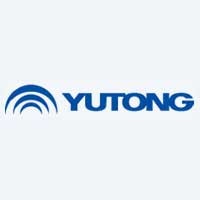 Yutong Light Truck T series description ⚡
Technical Specs, Price and Review on the new Yutong Light Truck T series.
Yutong Light Truck T Series: Pioneering the Era of Electric Commercial Vehicles
In a realm where innovation drives progress, Yutong Light Truck T Series emerges as a revolutionary force, redefining the landscape of electric commercial vehicles. With a visionary approach to design, efficiency, and sustainability, this series is poised to lead the charge in a new era of electrified transport.
Unveiling the T Series: A Glimpse into the Future
| | |
| --- | --- |
| manufactured in | China |
| new from ($) | 50000 |
| range (km) | 300 |
| battery (kWh) | 114.52 |
| sales start | 2023 |
| curb weight (kg) | 3500 |
At the heart of this transformation lies the Yutong Light Truck T Series—an embodiment of cutting-edge technology, efficiency, and forward-thinking design. With meticulous attention to every detail, this series ushers in a new chapter in the world of electric commercial vehicles.
A Design for Efficiency
Central to the T Series' prowess is its low wind resistance cab design, an innovation that transcends aesthetics to deliver tangible efficiency gains. By reimagining the cab's structure and embracing a rounded, streamlined design, Yutong maximizes the reduction in wind resistance, paving the way for improved energy consumption.
Unleashing the Power of Reduced Wind Resistance
The true impact of the low wind resistance cab design comes to light through its remarkable ability to curtail power consumption. It's a revelation that holds the key to extended driving ranges and enhanced efficiency. Under identical working conditions and battery energy, the Yutong Light Truck T Series showcases an exceptional extension of over 10% in driving mileage compared to its counterparts.
Navigating the Battery Dilemma
In a time where revolutionary advancements in battery technology remain on the horizon, Yutong acknowledges the limitations of infinite battery energy expansion. Rising costs and the burden of increased self-weight pose challenges to unrestricted battery enhancement. Here, the Yutong T Series offers a pragmatic solution—efficiency-driven design.
Driving Longer with Every Charge
Huang Huan'guo, Assistant to General Manager and Director of Technical Center at Yutong Light Commercial Vehicle Co., Ltd., emphasizes the series' commitment to extending driving ranges by reducing energy consumption. A mere increase in battery energy isn't enough; the focus lies in the intelligent utilization of energy resources. By achieving an additional 10-20 km on the same battery energy, the Yutong T Series lessens the frequency of charging, transforming the driving experience into a more seamless and continuous journey.
A New Dawn in Commercial Electrification
As the T Series breaks new ground in electric commercial vehicles, it heralds an era marked by efficiency, sustainability, and forward-looking design. Yutong's innovative spirit, combined with decades of technological expertise, propels the T Series into the forefront of commercial electrification.
Towards a Greener Tomorrow
With every innovation, Yutong Light Truck T Series invites us to reimagine the future of transportation. By harnessing the power of reduced wind resistance, extending driving ranges, and optimizing energy consumption, this series propels us toward a more sustainable and efficient tomorrow.
Disclaimer: The information provided is based on available data and subject to updates. For the latest details on the Yutong Light Truck T Series and its offerings, please refer to the official manufacturer's sources.